Typhoon Mangkhut: Deadly typhoon takes aim at south China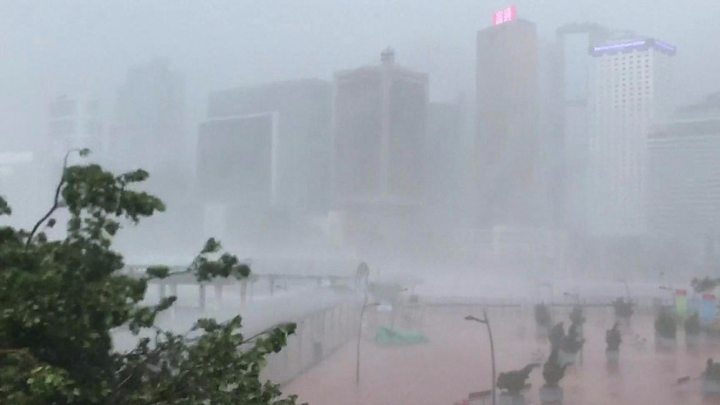 Parts of China are on high alert as heavy rains and strong winds from Typhoon Mangkhut began lashing the southern coast.
More than 100 people have been injured in Hong Kong, where skyscrapers swayed in the wind and windows were blown out.
At least 30 people have already died in the Philippines from Typhoon Mangkhut but the full impact on rural areas is not yet known.
Mangkhut is considered the strongest storm of 2018.
What's the impact on China?
In Hong Kong, authorities issued their maximum alert, with residents warned to stay indoors to avoid flying debris. Winds there reportedly reached more than 110 mph (117 kph).
Officials put the number of injured at 111 but the BBC's Robin Brant, who is in the city, says the worst of the winds appear to be over.
Water levels surged by almost 3.5 m (12 ft) in places and live fish were washed on to the streets.
Most shops and public services were shut, and more than 800 flights have been cancelled at Hong Kong International Airport – affecting more than 100,000 passengers.
Not everyone paid attention to the warnings, though. "I went running this morning. I love fresh air and there's no one on the streets, no cars. On normal days we can't see this," Hong Kong resident Hao Chen told the AFP news agency.
In neighbouring Macau, for the first time in its history the territory's famous casinos were ordered to close.
Thousands of people have been evacuated from Guangdong, on the Chinese mainland, where Mangkhut is due to strike later on Sunday.
Authorities in the heavily populated province also issued their highest warning level, a red alert.
The typhoon is the 22nd of the year but China's National Meteorological Centre says it could be the strongest one yet to make landfall.
How bad has the Philippines been hit?
Most of the deaths in the Philippines were caused by landslides in the Cordillera and Nueva Vizcaya regions, officials say.
Among the dead are a baby and a toddler. Blocked roads and downed communications lines mean reports are still coming in.
Typhoon Mangkhut made landfall on Saturday, tearing through the main island of Luzon.
Five million people were in its path and more than 100,000 sheltered in temporary centres.
There is also concern over the economic cost of the typhoon, which has caused extensive damage to farmland in Cagayan, a key agricultural province.
Francis Tolentino, a political adviser to President Rodrigo Duterte, told the BBC that he estimated only a fifth of produce there had been harvested in advance – threatening staples like rice and corn.
The Philippines is routinely hit during the typhoon season but the strength of Manghukt evoked memories of the deadliest storm on national record – Super Typhoon Haiyan – which killed more than 7,000 in 2013.
However, preparation and evacuation procedures have been improved since then. Warnings were issued, travel was restricted, schools shut and the army was put on standby in advance.
Mangkhut is expected to weaken into a tropical depression by Tuesday.
How have you been affected by the typhoon? Email haveyoursay@bbc.co.uk.
Please include a contact number if you are willing to speak to a BBC journalist. You can also contact us in the following ways: