Afghan mosque blast 'kills many'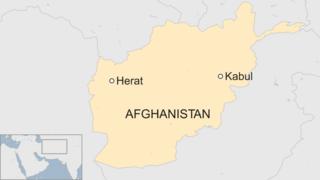 An explosion at a mosque in the Afghan city of Herat has killed at least 20 people and injured dozens more.
The blast, which struck the Jawadia mosque, coincided with evening prayers at around 20:00 local time (15:30 GMT).
One doctor told the Associated Press news agency that 20 bodies had been transported to his hospital.
Officials said one attacker was a suicide bomber, and a second had been armed with a rifle. Both are dead, a local police spokesperson told AFP.
Reuters also reported grenades were thrown during the attack, citing local police.
About 30 people are reported to be wounded, and local officials say the death toll is expected to rise.
No group has said it was behind attack, which occurred in a predominantly Shia Muslim area.
Herat, close to the border with Iran, is considered one of the most peaceful cities of Afghanistan.
A spokesman for the interior ministry had earlier said he suspected the explosion may have been caused by a car bomb.