Flying Scotsman steam sets off London Victoria fire alarm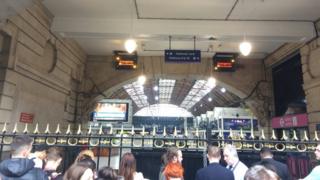 Rush hour commuters had to clear a busy London railway station after steam from the Flying Scotsman set off the fire alarm.
The world's best known steam engine sparked the evacuation when it arrived at London Victoria at about 19:00 BST.
BBC reporter Henry Monk said no-one panicked and everyone left calmly – apart from one man who ran out quickly.
Rail staff later said steam from the locomotive had set the alarms off.
The BBC understands fire alarms are normally switched off when the steam engine pays a visit to the central London terminus.
But on Thursday, the warning was not given and the locomotive's huge cloud of steam sparked an alert.
You may also like:
Commuters were initially left perplexed after hearing warnings of disruption.
Southeastern tweeted: "Due to a fire alarm at #LondonVictoria the station is currently being evacuated. Please expect disruption to services to/from this station. More info to follow."
But Claire Brighton tweeted: "No idea yet they are just saying 'due to an emergency'."
Southeastern later posted an update which said: "The cause of the fire alarm at Victoria has been found (the steam train there set them off). The station will re open shortly and trains will commence running."
After hearing why the alarms had gone off, passenger Simon Trewin tweeted to say it was the "best excuse EVER".
The locomotive is visiting towns and cities across the UK as part of a summer tour.