Fat Friends writer Kay Mellor 'fixated' on losing weight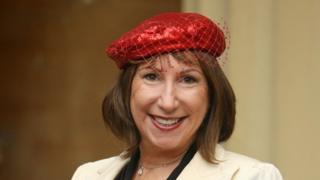 Writer Kay Mellor says she became "fixated" on losing weight as she was researching her TV series Fat Friends.
The hit ITV drama, starring James Corden, aired between 2000 and 2005 and focused on a slimming group in Leeds.
She attended a group to help her writing, but was then told by the leader she needed to lose weight.
The 66-year-old told BBC Radio 4's Desert Island Discs: "I started to want to lose weight so I could please her and please all the class."
The Bafta award-winning writer said she had been surprised to be told she was overweight.
She said: "I stood on the scales, she looked at me and I looked at her and she said: 'We'll start half a stone at a time'.
"And I went: 'Sorry?' – looked down at the thing – and she said: 'You're two stone overweight."'
Mellor added: "But then, slowly, I became fixated, myself."
'I was so naive'
Mellor also told Desert Island Discs host Kirsty Young about her shock at becoming pregnant at the age of 16.
"I didn't know anything, really, I was so naive," she said.
"Literally, the second time I'd had sex I was pregnant, because I'd never heard of the pill, and then for ages I was missing my periods and I didn't even realise I was pregnant."
Mellor said she did not find out she was expecting until she was four and a half months pregnant.
The teenager and her boyfriend Anthony decided to keep the baby and get married, but their vicar refused to marry them because he thought "it wouldn't last".
They got married at a register office – and will celebrate their 50th wedding anniversary this year.
The Leeds-born writer chose the Fat Friends theme tune – the Beautiful South's Perfect 10 – as one of her Desert Island Discs, because "every time I heard that I used to get excited and get butterflies".
She said: "It was such a lovely time of my life, it was a drama that was really important to me because I thought I had something to say about weight and body image."
The series, which also featured actors Ruth Jones, Alison Steadman and Sheridan Smith, has now been turned into a musical and starts touring next month – starring ex-England captain Andrew Flintoff.
He has also been cast in Mellor's new TV drama Love, Lies and Records which will air on BBC One this autumn.