Crime rises by 13% in England and Wales, ONS statistics say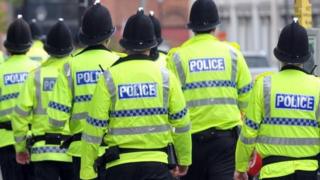 The number of crimes recorded annually in England and Wales has passed the five million mark for the first time in 10 years, rising by 13%, figures show.
The Office for National Statistics said crimes in the 12 months to June were up from 4.6 million the previous year.
It said crime categorised as "violent" rose by 19%, with rises in offences including stalking and harassment.
The Crime Survey for England and Wales, based on people's experiences, suggests there were 10.8 million offences.
The survey, published on the same day as the official crime statistics, includes crimes that people do not report to police. When comparing like-for-like crimes, the survey reported a 9% reduction compared with the previous year.
The rise in the ONS statistics, which cover the 12 months to the end of June, is the largest annual rise in a decade and continues a recent trend of crime increases.
John Flatley, from the ONS, said: "While improvements made by police forces in recording crime are still a factor in the increase, we judge that there have been genuine increases in crime – particularly in some of the low incidence but more harmful categories."
But he said police figures alone cannot provide "a good measure of all crime in society".
"The recent increases in recorded crime need to be seen in the context of the overall decline in crime indicated by the Crime Survey for England and Wales," he said.
The ONS report said:
Knife crime was up 26% year-on-year
Nearly half of the increase in knife crime was attributed to London
Sexual offences were up 19%
The number of homicides (cases of murder and manslaughter) increased by 46 to 629, excluding the terror attacks in London and Manchester
There were 1.2 million crimes of violence against the person
The 19% increase in "violence against the person" offences dealt with by police was "driven largely" by increases in the sub-categories of "violence without injury" (21%) and "stalking and harassment" (36%) and "violence with injury" (10%), the ONS said.