Conservative MP Michael Fabricant 'cycles naked through London park'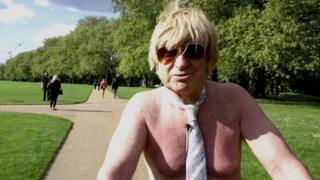 Conservative MP Michael Fabricant has been filmed apparently cycling nude around a London park to promote the creation of an annual naked bike ride.
The MP appears in the YouTube video in a silver tie and sunglasses, with a strategically placed black box protecting his modesty.
He is campaigning for an annual naked ride in his Lichfield constituency to raise money for a local hospice.
The 68-year-old is no stranger to publicity-grabbing social media videos.
In August, he presented a guide to the role of party Whips which showed him spanking a clothed man on the buttocks with a shoe horn.
Chilly morning
Explaining his latest stunt, which he has said was filmed on a "chilly spring morning", he said: "I think a naked cycle ride is a good way of raising money.
"A naked bike ride from Lichfield to Whittington (in Staffordshire) would be a beautiful thing and would uncover all sorts of parts that I have never seen before," he quipped.
"I'm told that naked cycle riding is both healthy and liberating – a bit like St Giles' hospice really."
Prime Minister Theresa May's official spokesman said: "The Prime Minister wishes Michael the very best of luck with his fundraising.
"He is raising money for an excellent cause and I'm sure that St Giles' Hospice will be very grateful for his efforts."