Carillion crunch rescue talks to resume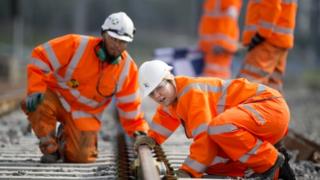 Talks will continue later to try to save the troubled engineering firm Carillion amid fears it could collapse within days.
Its future is being discussed at high-level government meetings, the BBC understands.
The government contractor is involved in major projects such as the HS2 high-speed rail line, as well as managing schools and prisons.
Carillion has debts of £1.5bn, including a £587m pension shortfall.
It is trying to reach an agreement with creditors.
Sources say the firm has a "matter of days" as it teeters on the edge of collapse.
The consultancy EY has been put on notice in case the company falls into administration.
On Friday, reports that creditors had rejected a potential rescue plan sent Carillion's shares down by more than 28%.
HS2 Building part of the high-speed rail line between London, Birmingham, Leeds and Manchester

MoD homes Maintains 50,000 homes for the Ministry of Defence

Schools Manages nearly 900 buildings nationwide

Network Rail Second largest supplier of maintenance services

Prisons Holds £200m in prison contracts
PA
In December, it convinced lenders to give it more time to repay them.
However, the company's banks, which include Santander UK, HSBC and Barclays, are understood to be reluctant to lend it any more cash.
The UK's second-largest construction company employs 43,000 people worldwide, with about 20,000 of them in the UK.
It specialises in construction, as well as facilities management and ongoing maintenance.
As recently as 2016 it had sales of £5.2bn and until July 2017 its market capitalisation was close to £1bn.
Since then, its share price has plummeted and it's now worth just £61m.
Its problems stem in part from a string of risky contracts which have proved unprofitable.
It also faced payment delays in the Middle East that hit its accounts.
Last year, it issued three profit warnings in five months and wrote down more than £1bn from the value of contracts.
It has worked on high-profile projects, including the Battersea Power station redevelopment and the Anfield Stadium expansion.
However, it is also the second largest supplier of maintenance services to Network Rail and maintains 50,000 homes for the Ministry of Defence, manages nearly 900 schools and manages roads and prisons.
The concern is that if it were to collapse these key public sector services could suffer a lot of disruption.