General election 2019: PM vows to close 'opportunity gap' after Brexit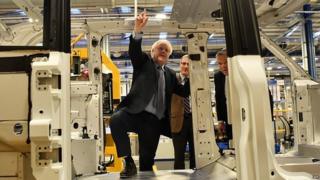 Delivering Brexit will enable the UK to start closing the "opportunity gap between rich and poor", Boris Johnson has said in his first campaign speech.
He promised to tackle "injustices" in regional investment and productivity after taking the UK out of the EU.
He said a future Tory government would double total investment in industrial research and development to £18bn.
But earlier former Tory David Gauke said Mr Johnson's plan will lead to a "bad outcome for the country".
And Labour said Mr Johnson's Brexit deal was flawed and another referendum was needed.
In other election developments:
Speaking during a visit to an electric taxi manufacturer near Coventry, the PM set out his vision for post-Brexit Britain, saying his goal was to unite the country and "level up" economic performance.
"We must get Brexit done because we are democrats," he said, saying while Leave voters wanted the result of the 2016 referendum result to be respected, Remain voters accepted the "wrangling had to end".
A Tory victory would see the UK leave the EU in January, an outcome he suggested would be good for the country's "politics, economy and psychological health" after months of paralysis.
He promised huge investment in the UK's infrastructure, in areas such as transport and broadband, to tackle the "small improvements in life that people are craving".
He warned of the risks of a "technicolour coalition" between Labour and the SNP, which he said would only prolong the uncertainty for business and families over Brexit and the future of Scotland in the UK.
But former justice secretary Mr Gauke warned a majority government led by Mr Johnson would lead to a "very hard Brexit".
He attacked the policy of the Conservatives to not extend the implementation period for Brexit past December 2020.
The Tories plan to negotiate a free trade agreement with the European Union during that time, but have pledged to leave without one if no deal is reached by the deadline.
Brexit Party leader Nigel Farage cited the pledge as one of the reasons for his decision not to stand candidates in the 317 seats won by the Tories at the last general election, in 2017.
Mr Gauke said "one simply cannot renegotiate a trade deal in that time period", and leaving without a deal would be "disastrous for the prosperity of our country… [making] whole sectors unviable".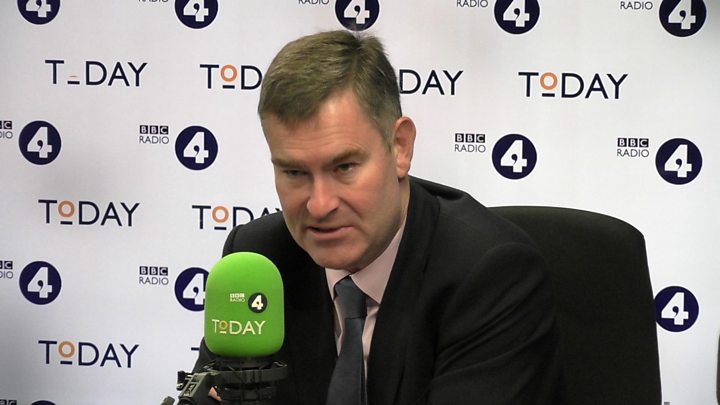 But Chancellor of the Duchy of Lancaster, Michael Gove, said his former colleague was "a good friend, but I think on this issue he's got it precisely wrong".
He told Breakfast: "The only way that we can Brexit done is by making sure we do have a functioning majority government."
Mr Gove also defended the progress the prime minister has made on Brexit.
He told BBC Radio 4's Today programme: "People throughout the summer said that Boris Johnson would not be able to secure a deal with the EU.
"The withdrawal agreement will never be reopened, they said. The backstop is unviable, you won't get it changed.
"They are people who have been left with oeuf on their faces because he succeeded in securing that deal in defiance of the sceptics and the cynics, and we can secure a free trade agreement by the end of 2020."
'Political self-obsession'
Mr Johnson will use the visit to an electric car manufacturer to promise a future Conservative government will "drive a clean energy revolution" and harness the power of science, innovation and technology to tackle climate change and create high-skilled, high wage jobs.
The alternative, he will argue, is a coalition between Labour and the SNP which would be likely to lead to another vote on Scottish independence – a key demand of the SNP – as well as more "political self-obsession" over Brexit.
"They will ruin 2020 with two referendums, they will ruin the economy with out of control debt, they will put taxes up for everyone."
In the party's first election broadcast on Tuesday, Mr Johnson said the UK was on the verge of leaving the EU with a "fantastic deal" last month but MPs refused to "knock it through" and the political system needed to be unblocked.
MPs backed Mr Johnson's Brexit deal in principle before Parliament was dissolved.
But they refused to endorse his timetable to rush it through in days, meaning the PM had to abandon his "do or die" pledge to take the UK out by the 31 October deadline.
Mr Johnson is concentrating much of his campaigning efforts in the Midlands, where he hopes to take seats off Labour in areas which voted to leave in the 2016 referendum.