Free time should be measure of UK's well-being, say Greens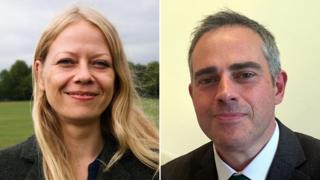 People's free time should be recorded as a way to measure the UK's "well-being", the Green Party says.
The party will call for a "Free Time Index" and say that time spent outside work and commuting is a better measure of the UK's well-being than GDP.
Co-leaders Sian Berry and Jonathan Bartley will argue that the figures should be published each year as part of the Autumn Budget.
It is part of a drive by the Greens to prioritise a better work-life balance.
The Green Party failed to make its hoped-for breakthrough in the 2017 general election, as its vote was squeezed by Labour. But it made headway in May's council elections, adding eight seats.
Bartley and Berry elected co-leaders
Last year the party announced a four-day working week policy, amounting to a maximum of 35 hours, and there have been reports suggesting Labour is considering a similar policy, as a way of sharing technological advances with staff.
In Friday's speech to the Green Party autumn conference in Bristol, Ms Berry and Mr Bartley will call for a new economic indicator which measures how much time people have outside the working day.
According to pre-released excerpts from her speech, Ms Berry, who was elected co-leader last month, will say: "It's time to shift away from the culture which sees us work harder and harder for longer and longer, often without reward or satisfaction."
She will add: "True freedom will only be found when people have more control of their time and how it is spent."
Mr Bartley will tell party members that a Free Time Index would measure the time available "to have a family life, relax and pursue the things they care about".
"It should be the aim of the government to see a yearly increase in this Free Time Index, so that the quality of time which is truly our own become the real measure of well-being."
The party pointed out that the Office for National Statistics had carried out a survey of leisure time in the UK in 2015, which suggested that UK men spent an average of six hours nine minutes a day on leisure activities – while women spent five hours 29 minutes. Most of that time was spent watching TV, listening to music or reading.
There has been some research which suggests that using money to free-up time is linked to increased happiness.
And the Greens' message is similar to one the then Conservative leader, David Cameron, espoused in 2005, when he said gauging people's well-being was one of the "central political issues of our time".
"It's time we admitted that there's more to life than money, and it's time we focused not just on GDP but on GWB – general well-being," he said.
The coalition government then attempted to measure the happiness of UK citizens and the first national well-being survey, was published in 2012.
The ONS recently published its latest "personal well-being" statistics, which suggested that, compared with both the UK and the other countries, people in Northern Ireland had "better average ratings across all personal well-being measures".