Crunch talks to break Senedd stalemate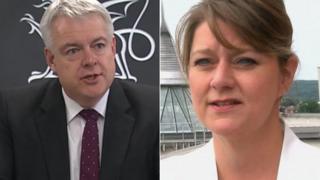 Formal talks between Labour and Plaid Cymru to try to break the deadlock in electing the next first minister have taken place.
They came two days after an attempt to reinstall Carwyn Jones to the job failed in a tied Senedd vote.
BBC Wales also understands Mr Jones has discussed appointing Lib Dem AM Kirsty Williams as a cabinet minister.
Meanwhile the Welsh Tories suggested they will not support Leanne Wood for first minister again without a deal.
The Plaid Cymru leader was backed by the Conservatives and the seven UKIP AMs, as well as her own party, in the controversial tied vote last Wednesday.
Ms Williams was the only opposition AM to support Mr Jones.
Labour fell short of a majority at the 5 May election and needs opposition support to govern.
Neil Hamilton, UKIP assembly group leader, called on the smaller parties to "stick together" against Labour arrogance.
'Find consensus'
Jane Hutt represented Labour and Simon Thomas Plaid Cymru in the talks, which took place at Welsh Government offices in Cardiff Bay, with neither party leader attending.
Labour AM Vaughan Gething told BBC Wales on Thursday: "We do recognise we're a minority, so we're having conversations."
Mr Thomas added before the meeting: "We are pleased that Labour has approached us in order to find consensus."
Plaid Cymru AMs insist they did not do a deal with other parties before the vote.
Welsh Conservative leader Andrew RT Davies told BBC Radio Wales on Friday there had been three sets of "substantial" talks involving two AMs from his party and two AMs from Plaid.
But he later released a statement suggesting the Tories would drop their backing for Ms Wood if a deal with Plaid was not forthcoming.
"We have an historic opportunity to break the mould in Wales… but this will only be possible with clear enthusiasm from others," he said.
"Should such ambition not be shown… Welsh Conservatives will not be minded to repeat our action from Wednesday's vote."
'Labour arrogance'
Another opposition group leader, Neil Hamilton of UKIP, said the average Plaid voter did not back the party to see it "effectively" go into coalition with Labour.
"We are all in favour of talks, but minority parties should stick together against Labour arrogance," he said.
On Thursday, some UKIP AMs suggested they could switch their votes if parts of their manifesto were made law, although Mr Gething said for Labour: "That is not something we would consider."
Meanwhile, Labour and the Lib Dems confirmed talks were continuing between their parties, but refused to reveal what had been discussed.
A well-placed Lib Dem source said Ms Williams had discussed an offer to take up a post as a cabinet minister.
A Labour source said there was "an open dialogue with Kirsty about what might be possible in the future".
Even with Ms Williams on board, Labour would still need an arrangement with another party to secure Mr Jones's re-election as first minister.
At the assembly election Labour won 29 seats, Plaid Cymru 12, the Conservatives 11, UKIP seven and the Liberal Democrats one.
AMs have until 1 June to nominate a first minister or face another election.
---
Could Labour learn lessons from the SNP?
Former first minister Rhodri Morgan has suggested Welsh Labour could learn lessons from the SNP in the way the two parties reacted to last week's elections.
Nicola Sturgeon's SNP was two seats short of a majority in the Scottish Parliament, with Welsh Labour winning 29 of the 60 seats in the Senedd.
Speaking on BBC Radio Cymru's O'r Bae programme Mr Morgan said: "Nicola Sturgeon was saying this is the third victory in a row that we've had in Scotland.
"So you create a psychology, so that everyone expects that you will master, you will govern, and that nobody can ask a question about what the way forward is.
"Now Labour was saying, no, don't rejoice, don't claim that we've won, because we haven't.
"Technically Nicola Sturgeon hadn't either, but she had created the psychology of expectation."