Bank of England in 'staggering' failure to pick woman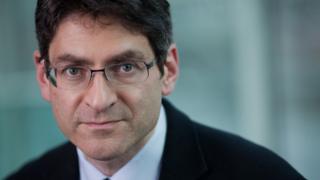 The Treasury's failure to appoint a woman to the Bank of England's rate-setting committee is "truly staggering", according to the chair of the Business Committee.
Rachel Reeves' comments came in response to the announcement that Prof Jonathan Haskel is to join the Monetary Policy Committee.
The Treasury said four women and one man were shortlisted for the post.
Prof Haskel's appointment means there is still only one woman on the MPC.
The Treasury revealed that 19 men and eight women applied for the post.
Ms Reeves said: "Eight of the nine strong Monetary Policy Committee are currently men and it is truly staggering that the Treasury has failed to appoint a woman to this role.
"The fact that four women were shortlisted shows that there are plenty of capable and well qualified women, but yet again the top jobs seem to be reserved for men."
Prof Haskel is professor of economics and Imperial College Business School. He will replace Ian McCafferty as one of the four externally appointed members of the MPC. His term of office will run for three years from 1 September.
Chancellor Philip Hammond said Prof Haskel's "expertise in productivity and innovation will further sharpen the committee's understanding of the British economy".
His appointment was based on recommendations to the chancellor made by an interview panel comprising Clare Lombardelli and Richard Hughes, from the Treasury, and Dame Kate Barker, a former external member of the MPC.
Sarah Smith, professor of economics at Bristol University, said Jonathan Haskell was "without doubt an excellent appointment, but this leaves only one woman on the committee".
Economics suffered from "serious under-representation of women at all levels", she added.
"The profession is going to have to think seriously about attracting a more diverse range of people – and projecting a broader image – otherwise it is in danger of being seen as a subject that is by men and for men."
'Menopausal'
Last November, the Bank's gender pay gap report revealed that male staff at the Bank of England were paid almost a quarter more than female employees
At the time, governor Mark Carney said he was confident men and women were paid equally for doing the same jobs at the Bank.
"However, the greater proportion of men than women in senior roles creates a gender pay gap," he admitted.
"We are working hard to address this imbalance… addressing the disparity in gender representation at senior levels will take time, but it will help close the current gender pay gap at the Bank."
Earlier this month, the Bank of England's deputy governor apologised after describing the UK economy as entering a "menopausal" era.
Ben Broadbent used the phrase in a Daily Telegraph interview about economies that were, he said, "past their peak, and no longer so potent".
His remarks prompted a backlash and he subsequently admitted the phrase "conveyed ageist and sexist overtones".
And in an internal message seen by the BBC, he said he knew some bank staff had been offended and he was "truly sorry".
He told colleagues he should not have used the word.