US police review Russell Simmons rape claims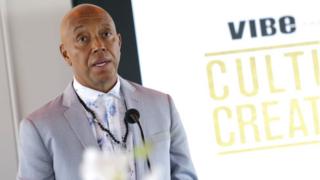 New York City police are investigating rape and sexual assault allegations against music producer Russell Simmons.
The former rap mogul took to Instagram to declare his innocence and dismiss allegations as an "insane pile on".
"Today, I begin to properly defend myself. I will prove without any doubt that I am innocent of all rape charges," he posted on Thursday.
Several women have now come forward to accuse Simmons of sexual misconduct, including claims of rape.
The New York Police Department (NYPD) announced on Thursday they would look into the claims made in the US media against the 60-year-old founder of Def Jam Recordings.
The announcement came a day after the New York Times reported accounts of three women and the Los Angeles Times published allegations from another five.
New Russell Simmons sex claims emerge
"The NYPD has received information regarding allegations involving Russell Simmons in the NYC area and our detectives are in the process of reviewing that information," an NYPD spokesman said in a statement.
Hours later, Simmons posted to social media with the hashtag #NotMe in a play on the #MeToo campaign, in which thousands of women came forward to share stories of sexual harassment and abuse.
"My intention is not to diminish the #MeToo movement in anyway, but instead hold my accusers accountable," he wrote.
On Friday a new accuser came forward to claim Simmons had attempted to rape her in 1991.
Fashion publicist Kelly Cutrone – who starred on MTV's The Hills and America's Next Top Model – described him as casual acquaintance, whom she had bumped into at a party when she was 26 years old.
The founder of PR firm People's Revolution told the Page Six website that Simmons allegedly "pushed me into his apartment and then he threw me down on the floor and literally tried to grab… take my clothes off of me".
She added that she chose to come forward with her alleged story because she was horrified by Simmons #NotMe social media campaign.
"The #NotMe thing? I'm going to do a #YeahYou."
In an earlier denial issued on Wednesday, Simmons said his accusers' claims "range from the patently untrue to the frivolous and hurtful".
In November, Simmons stepped down from his business empire after other allegations of sexual harassment and assault were made against him.
Simmons is not the only celebrity facing accusations of sexual impropriety.
The NYPD is also investigating Hollywood mogul Harvey Weinstein for allegations of rape.
And on Thursday, a former classmate of actor Dustin Hoffman's daughter told Variety magazine that the Oscar-winning actor had exposed himself to her in a New York hotel room when she was 16 years old. Hoffman has denied the claims.