Rapper Nelly: Police inquiry starts over sex assault claims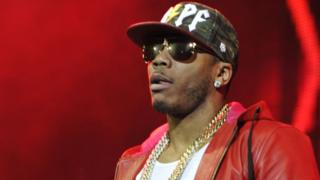 Claims that rapper Nelly sexually assaulted a fan after a gig in the UK have been formally reported to police.
The attack is alleged to have happened after Nelly's show at the Cliffs Pavilion, Southend on 5 December.
An Essex Police spokesman said the force had started an investigation after a woman reported she had been "sexually assaulted".
He said: "Enquiries are ongoing." Nelly has denied the allegations.
Last month, the BBC reported Essex Police wanted to obtain a report from the unnamed woman after allegations of an assault were made in the US media.
The allegation after the gig in Southend was included in the claim of a US woman who has said she was raped by the rap star.
Nelly, real name Cornell Iral Haynes Jr, 43, has denied the allegations and has filed a counter-suit.
Student Monique Greene, 22, alleges the rapper raped her on his tour bus and is suing the rapper in Washington, USA.
Prosecutors dropped a criminal case against him because she would not testify.
'Not stand silent'
In court documents obtained by the Associated Press, the lawsuit also says a third woman alleges she was sexually assaulted after a show at Koko, in Camden, north London, in June 2016.
Ms Greene's lawyer, Karen Koehler, said she was contacted by the two women after they read about her client's case.
Nelly's lawyer Mr Roseblum said: "Nelly is sensitive to women that have been victimised and marginalised. This is not the case here. He will not stand silent.
"The recent addition of 'Jane Doe 1 and 2' is completely fabricated and an attempt to give credibility to his accuser's far-fetched story."