Amber Tamblyn 'believes' husband David Cross's accuser in race row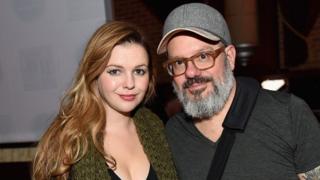 US actress Amber Tamblyn has responded to claims that her husband David Cross made racist comments to a comedian a decade ago by supporting his accuser.
Comedian Charlyne Yi said she met Cross some years earlier and that he had asked if she spoke English, before adding: "Ching-chong-ching-chong."
Cross responded that he did not recall the incident, but that if he made the comments it would have been a "joke".
Tamblyn later said she had "spoken to Charlyne," adding: "I believe her."
"Her feelings/safety are all that matter to me," Tamblyn tweeted on Friday after announcing that she had contacted Yi.
Tamblyn, who initially defended Cross, said that she was "about [Yi's] emotional health right now", adding that women should not be held accountable for the actions of their partners.
In a statement posted on Twitter on Wednesday, Cross said that he recalled meeting Yi but not the conversation, and that he had "no idea she was upset or I would have apologised".
"I am not accusing Charlyne of lying and I'm truly sorry if I hurt her," he wrote.
Cross added that he would "never" have used such language "unless I was doing some … racist character" from one of his stand-up routines.
"I would never intentionally hurt someone like that," he said. "I do not remember doing this when I met her."
However Yi said that at the time Cross appeared to have realised that he had caused offence. "He asked me if I was going to fight with him karate in a southern accent," she said.
Tamblyn rose to fame after appearances in the US series Buffy the Vampire Slayer and the police drama CSI: Miami. She worked with Cross on the long-running comedy The Increasingly Poor Decisions of Todd Margaret.
Cross is best-known for the role of Tobias Fünke in the US TV sitcom Arrested Development.
Yi, whose mother is a native of the Philippines, made her film debut in Judd Apatow's 2007 film Knocked Up and has appeared on the popular comedy show Saturday Night Live.