Head teacher banned for helping pupils cheat in SATs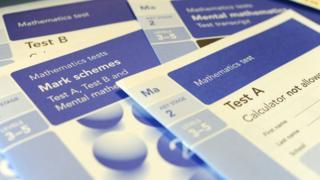 A head teacher has been banned from the profession indefinitely after helping pupils cheat in their SATs.
Karen Parker, 55, "bribed pupils" and set off a fire alarm during exams at Robert Bruce Middle School in Kempston, Bedfordshire, a disciplinary panel found.
Her actions "ultimately led" to the annulment of the school's Year 6 SATs results in May 2015, the panel said.
Her assistant head was also found to have "provided assistance" to pupils.
Read more Beds, Herts and Bucks stories
Mrs Parker, who had been head at the school since September 2012, was suspended in July 2015 after an investigation by the Department for Education's Standards and Testing Agency.
An allegation of cheating had been raised by the parent of a Year 6 pupil at the school, the report said.
'Pizza and McDonald's'
The panel heard that Mrs Parker had given the child the answers to mathematical questions "to help him achieve a good grade".
Another boy claimed the head teacher "bribed pupils" and bought him pizza and McDonald's food on two occasions "if he took his SATs".
She also admitted setting off a fire alarm during a Year 8 exit exam, claiming it was "not her finest hour".
Mrs Parker was accused of putting pressure on staff to secure results, warning them they could lose their jobs, the panel found.
She will be able to apply to have the indefinite teaching ban lifted in two years' time, it concluded.
The professional conduct panel said her assistant head, newly-qualified Paul Henry, 33, was also found to have "provided assistance to one or more pupils" during the exams.
The panel said he had told colleagues: "I'm not asking you to cheat, but am telling you to do everything you can to get them through."
Mr Henry was found in breach of professional standards of ethics and behaviour.
Robert Bruce Middle School – which served pupils aged from nine to 13 years – closed and merged with a business college in November 2015 to become Kempston Challenger Academy.